IDB signed MoU with LAKSALA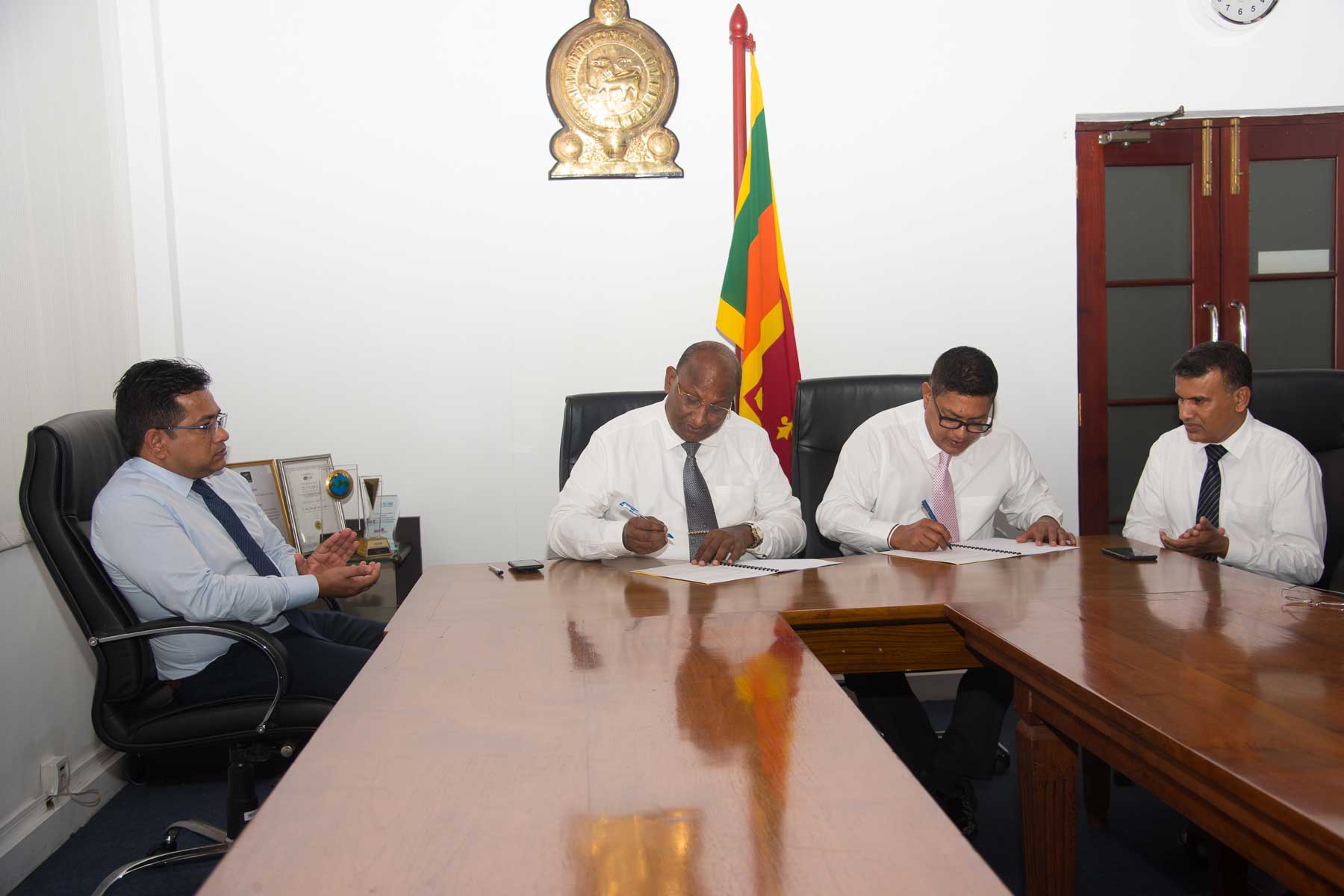 A Memorandum of Understanding was signed on 23rd of March 2018 between the Industrial Development Board (IDB) and the Sri Lanka Handicrafts Board (Laksala)
The MoU signing ceremony took place at the Laksala, Colombo 07. This MOU focuses to provide skilled development training on wood technology to fulfill the needs of Small and Medium Industries as well as of Youth in Sri Lanka. It has been recognized that a great service can be extended towards the development of wood sector by creating this partnership project with the collaboration of the IDB and Laksala.
Sri Lanka Handicrafts Board (Laksala) is a Statutory Board duly established under the National Crafts Council and Allied Institutions Act No. 35 of 1982 and Industrial Development Board of Ceylon is a Statutory Board duly established under the Industrial Development Act No. 36 of 1969. The both institutes are under the purview of the Ministry of Industry & Commerce.
The wood and wood based industry is one of the oldest industries in Sri Lanka. It is performing as one of the important manufacturing sector. The industry has been spread all over the country and it provides employment to a large number of people in both urban and rural areas. Wooden furniture is a sub sector within the wood-based industry in Sri Lanka. Carpentry work for buildings is also important segment in construction industry in Sri Lanka. There is a huge potential to develop this sector both for the local as well as export markets and the most of the small scale wood industries are concentrated around Moratuwa area.
The both IDB & Laksala identified that the major problem faced by the industries in wood sector is lack of skilled labour and decided to establish a training center at Katubedda for Wood sector by utilizing the buildings and machinery owned by Laksala. The key intention of the establishing this proposed Training Centre is to reach the youths of the country and make them to be skillful to be able to find employment locally and internationally in wood based industries. Further nowadays industries face a problem on lack of skilled labor. The Centre's mission is to conduct Vocational Trainings to meet the needs of Sri Lankans providing NVQ level learning opportunities. Wood Craftsman on Building and Furniture are potential key areas in Sri Lankan Wood industry. Therefore this project envisages in the Island to a high value addition and productivity platform, ensuring a higher national income.
The objectives of the project:
To provide skilled development training on wood technology such as Wood craftsman for Building & Furniture
To manufacture and supply of furniture for the government institutes
To introduce new machinery and modern technology for the industrialists
To provide facility for Wood treatment and Kiln drying
To introduce new products and new designs for wood industry sector
Mr. Mahinda Jinasena, the Chairman of the Industrial Development Board, Mr. P.L.U. Rathnamalala Director General, IDB, Mr. Mohan Gunasinghe, Director – Technical Services Division, IDB participated for this memorable event. Dr. S. M. M. Ismail, the Chairman, Sri Lanka Handicrafts Board, Mr. Ali Ahalam Nawaz; Director General/CEO, Sri Lanka Handicrafts Board, Mr. C.N. Dahanayake; Director – HR & Administration and Mr. Gayan Liyanage – Co-coordinator gathered for this event.