Project for Development of the Cosmetic Industry Sector in Sri Lanka – 2023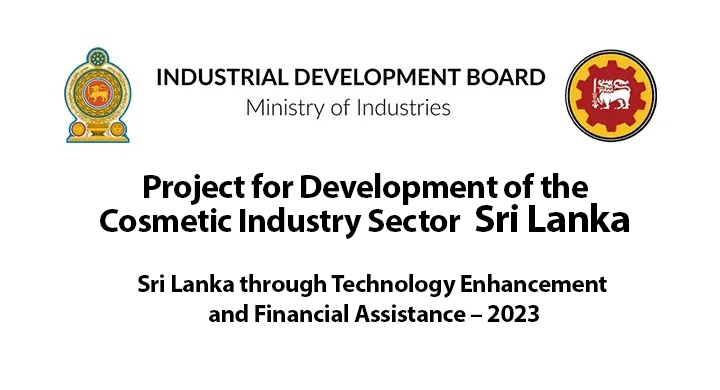 A project for the development of 30 selected small and medium scale cosmetic manufacturing industries is introduced by the Industrial Development Board (IDB) and the Ministry of Industries by offering a financial grant for product testing. Further, capacity-building training programs will be provided to the selected industrialists to improve product quality to expand the existing product market.
Project Benefits:
The selected industries are required to invest a minimum amount of Rs.200, 000.00 for product testing charges for the selected product/products and the IDB shall reimburse 50% of the total testing charge up to a maximum of Rs.100, 000.00 upon the successful completion of the project.
Capacity building training programs (4 nos.) will be provided for the selected industries to expand their product quality, production process and marketing, etc. free of charge.
Eligibility Criteria:
The industry should be a locally owned company.
The industry should fall under the cosmetic industry sector.
The industry should have been engaged in the manufacturing or trading of cosmetic products for at least one year and successfully functioning at the time of application.
Industries whose annual turnover is less than 750Mn or whose permanent employment is less than 300 can apply (Small and Medium Scale Industries: National Policy Framework for SME Development by the Ministry of Industries).
A financial grant is offered for the cost of testing charges for the selected product / products.
The industry should not have been registered with any other government institution to obtain similar nature of assistance for the year 2023.
Application Process:
A duly completed application and all supporting documents (hard copies) should be submitted to the IDB Head office and soft copies should be sent to tsdidb@gmail.com on or before 04th of August, 2023.
Selection Criteria:
Thirty (30) promising small and medium scale cosmetic industries currently manufacturing cosmetic products will be selected based on the information provided in the application form by a committee appointed by the Chairman of the Industrial Development Board of Ceylon and the final decision will be taken by the IDB.
The industrialists should agree to facilitate the IDB in identifying the product / products details, testing requirements, and training needs to confirm eligibility.
The selected industries have to sign an agreement with the IDB, confirming the ability to complete the process before 31st of October 2023.
For inquiries:
Director, Technical Services Division,
Industrial Development Board,
No: 615, Galle Road, Katubedda, Moratuwa.
Tel: 011 2605278 / 011 2605326-27 Ext: 150 / 197 / 167 Fax: 011 2623846 / 2607002
Email: tsdidb@gmail.com
| No. | Title | Medium | Link |
| --- | --- | --- | --- |
| 1 | Application Form | english | View |