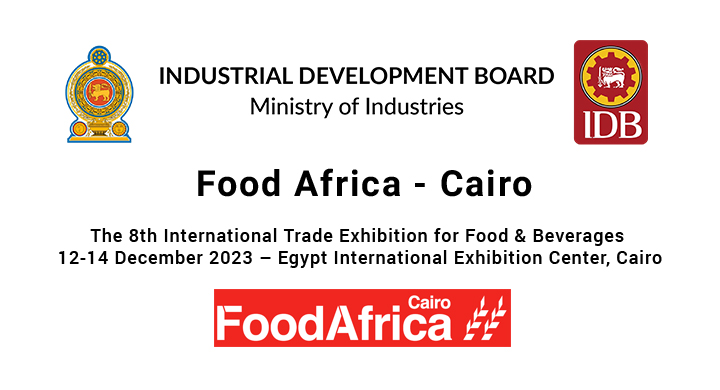 The 8th International Trade Exhibition for Food & Beverages
Food Africa – Cairo
12-14 December 2023 – Egypt International Exhibition Center, Cairo
The 8th International Trade Exhibition for Food & Beverages – Food Africa is scheduled to be held from from 12th – 14th December 2023 at the Egypt International Exhibition Center, Cairo, Egypt. The Industrial Development Board will be organizing Sri Lanka's participation at Food Africa 2023 exhibition.
Cairo Food Africa focuses on establishing B2B connections between business entities specialized in the Food & Beverage sector. As per the highlights of 2022, more than 738 exhibitors have attended this trade exhibition and 30 participating countries. Further, the post-report of the 2022 event is evidencing that 25,831 business visitors have attended this Trade exhibition. The official website of the trade fair could be visited via the link https://www.foodafrica-expo.com
The 8th Food Africa Exhibition has the following specialized platforms and offerings:
Food Africa Conference: a specialized conference that provides unique insights into Egyptian and African markets and trends.
Hosted Buyers Program dedicated B2B platform with hosted buyers from Africa and the Middle East & North Africa region to maximize exhibitors' new agency and distribution agreements.
Applications are invited from the Food & Beverage processors /exporters of the following product categories, adhering to international food standards and having the capacity to cater to the international market.
Tea, Coffee & Herbal Infusions
Rice, Grains, Flours & Cereals
Nuts & Dried Food
Organic & Diet Food
Beverages & Energy Drinks
Canned, Chilled & Frozen Food
Child Food & Ready Meals
Condiments, Sauces & Preserves
Confectionery & Snacks
Gluten Free Food
Fish & Seafood
Fresh Fruits & Vegetables
Herbs & Spices
Food Ingredients
Cheese & Dairy Products
Mineral & Flavored Water
Other relevant food products
Procedure
The cost of space & construction and all the related expenses have to be borne by the participating companies for their individual stalls. IDB facilitates shared spaces for selected SME exporters / export ready companies to display their products.
Duly completed application forms should reach : Director / Marketing & Supply Chain Division, Industrial Development Board, 615, Galle Road, Katubedda by registered post on or before 22nd September 2023 and soft copy of the application should be forwarded to ceylonproducts@idb.lk.
For further details, please contact 112 623 439, 0714401545/ 0715226818