The National Industry Excellence Awards Ceremony-2023 was held in grand style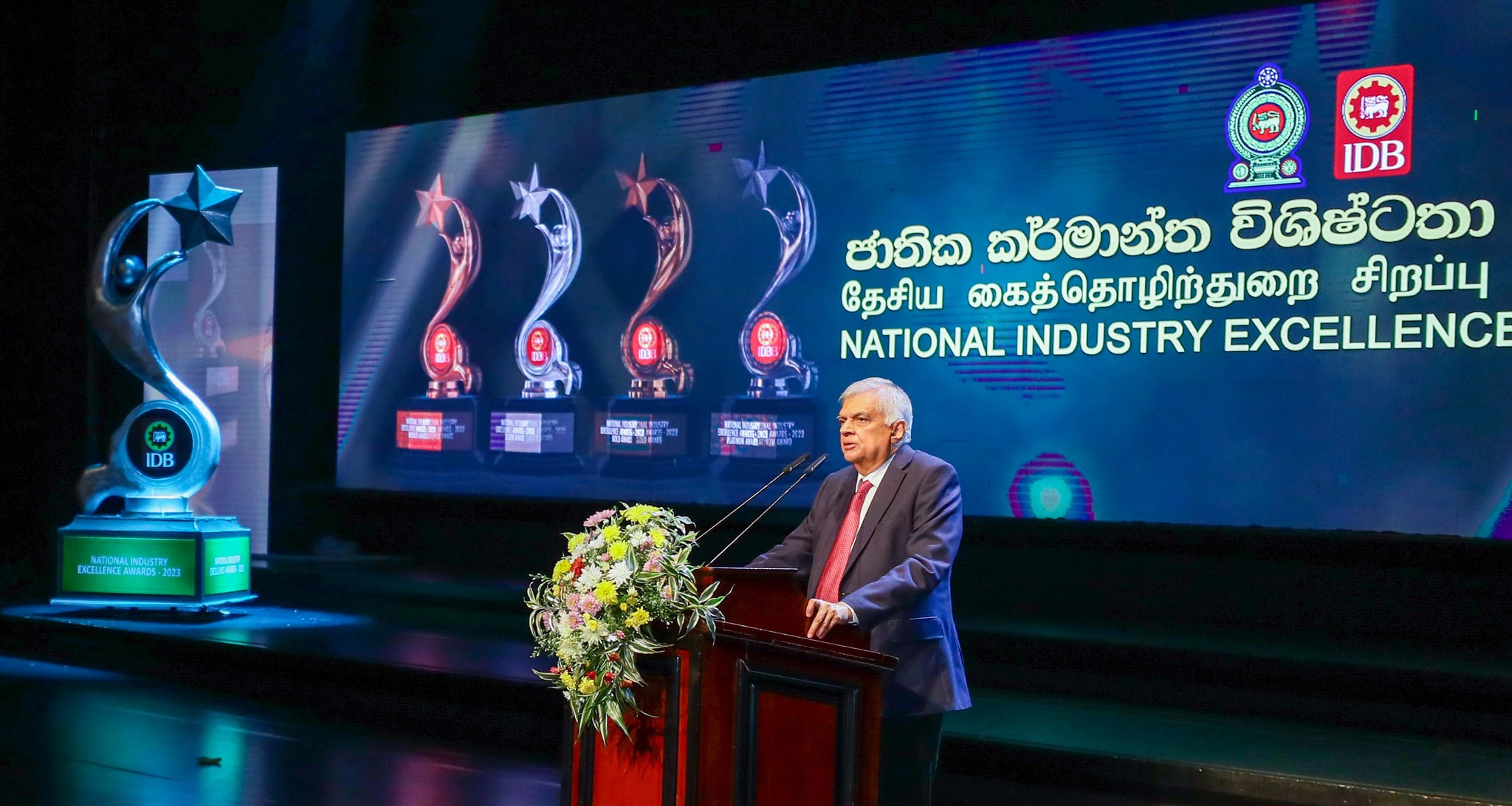 The "National Industry Excellence Awards Ceremony 2023" was organized by the Ministry of Industries and the Industrial Development Board of Ceylon to acknowledge the dedication and honor contribution of 300 entrepreneurs in micro, small, medium and large scale  and to further empower them towards an export-oriented manufacturing economy.. It was held grandly at the Nelum Pokuna Theater at Colombo on 01st of November by the honorable presence of His Excellency the President Mr. Ranil Wickramasinghe, Minister of Industries and Health Dr. Ramesh Pathirana, Minister of State for Small and Medium Enterprises Development, Mr. Prasanna Ranaweera,  Minister of State for Primary Industries, Mr. Chamara Sampath Dasanayake and the other distinguished guests
Among 4000 competitive industries applied under the scale of micro, small, medium and large by covering all districts of Sri Lanka under 67 sub-sectors of 21 main Industry sectors, 300 winners were selected at the 'National Industry Excellence Awards Ceremony' by a panel of expert judges consisting of twenty people formulated from a group of University Professors, Professors, Government officials and leading institutional officials who were very much related to the industry.
At the Awards Ceremony 84 bronze awards were presented by the State Minister Chamara Sampath Dasanayake, 96 silver awards were presented by State Minister Prasanna Ranaweera, and 99 gold awards were presented by the Cabinet Minister Dr. Ramesh Pathirana for micro, small, medium and large scale industries. Under the gold award category, 17 gold awards were presented to the large-scale industries by the hands of His Excellency the President Mr. Ranil Wickramasinghe. Then the Platinum Awards were presented to honor the overall performances under different scales and Sanota (Pvt) Ltd. won the Platinum award for micro-scale, respectively Thotawaththa Engineering Works won for small-scale, Danusha Group of Companies for the medium-scale and Dipped Products PLC for the large-scale.
Strengthening an example to the entire government sector, all the staff members of the IDB has donated a day's wages to accumulate an amount of seven hundred and thirty three thousand nine hundred and eleven Rupees (733,911/=) to the Industrial Development Fund. Unilever Sri Lanka also considered to fulfill the social responsibility by agreeing to offer 10 million Rupees for a period of one year to strengthen the Industrial Development Fund.
In addition, for the first time in the history of Sri Lanka, a channel called 'Industry TV', will be started as a channel dedicated for industries, has also been popularized for the purpose of building an entrepreneurial culture in the country and its broadcasting activities will be carried out from 21st of November on PEO TV channel number 130.
Central Province Governor Mr. Lawyer Lalith U Gamage, Secretary of the Ministry of Industries Ms. Thilaka Jayasundara, Ministry Secretaries, Additional Secretaries, Chairman of Industrial Development Board Dr. Saranga Alahapperuma, Institute Presidents, Government Officials, University Lecturers, Professors, leading entrepreneurs and many dignitaries attended to grace the event.
Full Video : https://www.youtube.com/watch?v=VbYbX3aS33c
Venue: Nelum Pokuna Theater